Brand

Introduction

Puffs 'n' Rolls – Nashik based Bake Shop, takes pride in being Nashik's most trusted and leading manufacturer of bakery and confectionery products. We have been constantly growing in our presence and portfolio since our launch in 2001.
Puffs 'n' Rolls offers a full range of unique style baked treats and desserts including Cupcakes, Layer Cakes, Brownies, Pies, Puffs, Pastries, Cookies, Croissants, Bread and much more.
We also cater for customers requiring orders for wedding, birthdays, events and other celebrations to make your happy moments memorable.
The business has grown successfully over the years and this is primarily due to the quality of the products and the excellent service offered. Our products definitely elevate our customer's expectations and make them feel happy that they have paid worth.

We always keep Highest Quality as our prime focus and we will continue to maintain that in future.
This philosophy is to be underpinned by establishing and maintaining strong working relationships with our suppliers, customers and caring for our staff to work towards a common goal of mutual profitability, based on trust and respect.

Our Vision is to create a product that makes a style statement.
About The
Company
Owned and managed by The Patel Family, Puffs 'n' Rolls began operations in 2001.
Distributors across all Puffs n Rolls stores for Nestle India Pvt Ltd. for Vending, under the name of N.D. Patel & Co. which started as an aerated water business in 1907.
Manufacturers in Bakery & Confectionery Products, have become Nashik's Premier Bakery for Edible Art and destination of choice for a growing list of celebrities and locals.
Also, the owners of Renuka Developers, having commercial and residential projects in Nashik.
Distributors for Bombay Dyeing Company (started in 1987) at Nashik, under the name of Canson.
About The
Owner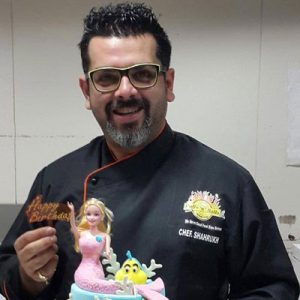 Shahrukh H. Patel, the company founder, and Managing Director developed the concept for Puffs 'n' Rolls with the family support of his father Hoshi Patel and brother Sherzad Patel. This was in response to lack of places in Nashik to enjoy the taste of the truly authentic European-style baking.
His vision for the bakery and love of baking transpired to be something that many within Nashik and across Maharashtra came to share. Today the bakery has become a highly celebrated and iconic High Street brand.
"We implement your delicious dreams to make your happy moments memorable with love"